Disclaimer from Red Files: This email has been copied and paste from our inbox. Estelle Lucas and another Red Files member were present for a workshop to talk about how LGBTIQ people can have better relations with the government and this survey offers an opportunity for everyone else to have their say.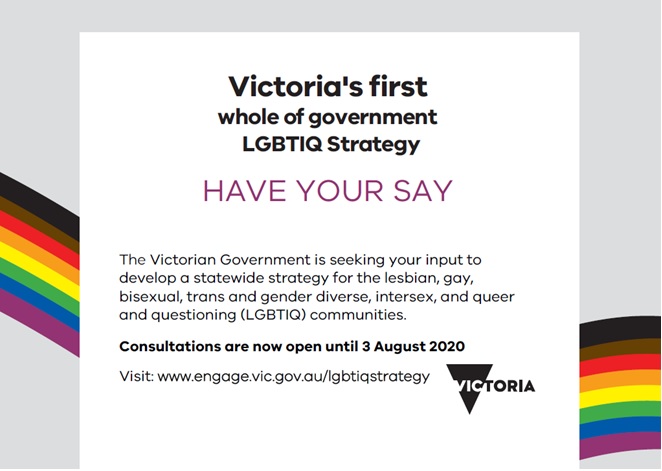 Dear Friends
The Victorian Government is developing Victoria's first whole-of-government LGBTIQ strategy, and we want your input.
This is your opportunity to inform the Government on what is important for LGBTIQ people and communities in Victoria, now and in the future.
This strategy will be informed by a broad and inclusive public and stakeholder consultation process and will set the direction of Victoria's equality agenda for years to come.
From now until 3 August 2020 we're inviting you to have your say by responding to an online survey or making a written submission.
To do this, and for more information, you can visit:
www.engage.vic.gov.au/LGBTIQst... 
A discussion paper and accessible infographics can be accessed via the link above to provide more information and key questions for you to consider in your response.
We are also seeking your support to share this opportunity with your networks. Attached is a social media tile to promote the consultation process. Thank you in advance for your support.
Much has already been achieved for LGBTIQ Victorians, but there is more to be done. Your contribution is crucial for progressing our journey towards equality.
Warmly,
Ro Allen